Phoenix Travel Guide
Only a month (and a half later) than my time in Phoenix …whoops! BUT happy to say I'm ready to share my guide!
Phoenix was one of the coolest and cleanest places I've ever visited! I went for business to learn more about social media and blogging (s/o bloguettes for hosting The Workshop) and luckily had some free time at night plus was able to extend for the weekend!
I hadn't been to Arizona since 2008 so I was pumped to go back and experience it post the age of 21! #Dranks The city definitely surpassed my expectations in every way, I could even imagine myself living there! And I really never say that…
I did a lot of investigating for what to see, where to eat, and what to do during my free time before heading southwest!
When to Go:
So I didn't have a choice of when to go since The Workshop was in the beginning of February and that conference is why I was traveling to PHX. But I can safely say, I was there at the perfect time! The weather was BEAUTIFULLLL. Average of 75 and sunny every.single.day. And no humidity which was so amazing. (Philly, why can't you be like that??) I definitely wouldn't want to visit June-August because the temps almost always go over 100 and from what everyone said, it's like a sauna (and sometimes actually dangerously unhealthy)!
Where I Stayed:
I stayed at the Hilton Downtown on East Monroe St because it was only a 7-minute walk to The Workshop. I also loved that it was close to so many restaurants and bars. And being a 5-minute walk to City Scape was SO convenient. This structure has high-rise apartments (who cares, I know), but also a Starbucks, CVS (that sells alc super cheap), Chico Malo (very fun outdoor bar and Mexican restaurant), a poke restaurant, movie theater, and more! If I had the opportunity to go back again, I would stay in an Airbnb in Scottsdale I think. The whole area is so glitzy and pretty!
Where I Ate:
Diego Pops – you have to go for happy hour. The décor, the servers, the food all so good and pleasant! A very grammable and trendy spot. Their happy hour is every day of the week from 3-6pm. Get the $5 brussels sprout nachos during HH and their classic marg! You won't be disappointed.
this cotton candy sky tho?!
Ruze Cake House – known for their gourmet wedding cakes, this picturesque boutiquey bake shop is out-of-this-WORLD. The macaroons are super tasty and their insta-famous boba tea with cotton candy is so sweet! I got "The Ruze" – prickly pear tea, fresh pickly pear purree, simple syrup, and milk.
Original ChopShop – a very health conscious place with good eats! Very simple, and I loved the create-your-own options. The juices were also realllllly good. Had to go back for another the next day!
Kitchen 18 – do you keep kosher like me? Then you'll definitely want to dine at this place for dinner. They have outdoor seating which I love! The menu has vegetarian, pescetarian, chicken, and beef options. I got the chicken tortilla soup (it was a little chilly that night and I wanted something as soon as I sat down to warm me up) and sweet and sour chicken with added spicy sauce for an extra kick. It was delish!
sweet + sour chicken with white rice & broccoli
Snooze an A.M. Eatery – WEE! I loved this brunch spot so, so much. The most fun atmosphere, mixed with the tastiest bloody's, and longest menu of options, eva! I went to the ASU location because I wanted to check out the campus anyway. If you sit outside, just know the bees are wild and plentiful. My waitress felt so bad, she brought out a complimentary stack of pancakes. Mmm mmm were they good! I got the Bangkok Bloody Mary to start – MEll Vodka, Sriracha, Lime, Cilantro, Basil, Fish Sauce & House Bloody Mix. Then the breakfast burrito came out and it was HUGE, but really yummy. I couldn't finish it, but they boxed it up nicely for me! Also, make note the wait on weekends is longgg. Be prepared to wait 30-90 minutes.
best bloody I've ever had
Kung Fu Tea – located in Tempe, a 15 minute walk from Snooze an A.M. Eatery this place is brand new to Arizona. The walk from Snooze to Kung Fu was nice because I was able to see more of the campus and the "downtown" area. Obviously, this place specializes in bobba tea and it didn't disappoint. I always recommend getting any type of boba tea half sweet :)
refreshing boba made by the friendliest staff, ever
Harumi Sushi – BEST SUSHI EVER. (Minus Nobu, Morimoto, and Sushi Seki, but still!!!!!!) This place was so bomb. All the rolls are made with only purple rice which was extra pretty and super healthy! The salmon was melt-in-my-mouth good. The service was so fast, too! For traditional rolls, I got yellowtail scallion and salmon avocado and then one specialty roll of, H3. Everything was soooo good. They don't take reservations, so keep that in mind, especially on the weekend.
h3 roll - spicy tuna, spicy salmon, avocado, cucumber, tobiko, masago, eel sauce & spicy mayo
Bitter and Twister – a speakeasy-type bar with the most amazing cocktails I've ever tasted. Their cocktail book is PAGES long, but all filled with delicious, special, one-of-a-kind drinks. I got the "Lime and the Coconut" cocktail which is comprised of tequila, limoncello, lime, pineapple syrup, and coconut foam. I also got what's called, "Smashed Chips" – thick and tattered potato chips with horseradish crema + salsa verde + smoked red pepper sauce + avocado + twisted chili sauce. I asked for no chili sauce because it's with meat, but all the other sauces were unreal. By the way, you have to give your name to the "bouncer" outside the door and then they'll text you when the table is ready. The wait can be anywhere between 30 minutes to 3 hours! Pro tip: get your name in ahead of time on the Yelp app.
Other places I wanted to try, but didn't have the time to: SugarBowl, Olive and Ivy, Roka Akor, Café Monarch, and FnB Restaurant.
Where I Explored:
Old Town Scottsdale – my favorite area! Everyone looks like they're straight out of a magazine, the neighborhood is groomed so nicely, there are lots of unique cafes, bars, and restaurants. It's fairly walkable but to get to and from Old Town an Uber ride was definitely needed. The charm of Scottsdale is so warm and welcoming – I highly recommend a stroll!
Downtown Phoenix – this is where my hotel was and I really liked the accessibility to all things. It's very "dead" on weekends though because this is where all the businesses are so a lot of the places I was hoping to stop into were actually closed : / Except don't forget about bitter & twisted which IS open on weekend nights and I HIGHLY suggest going!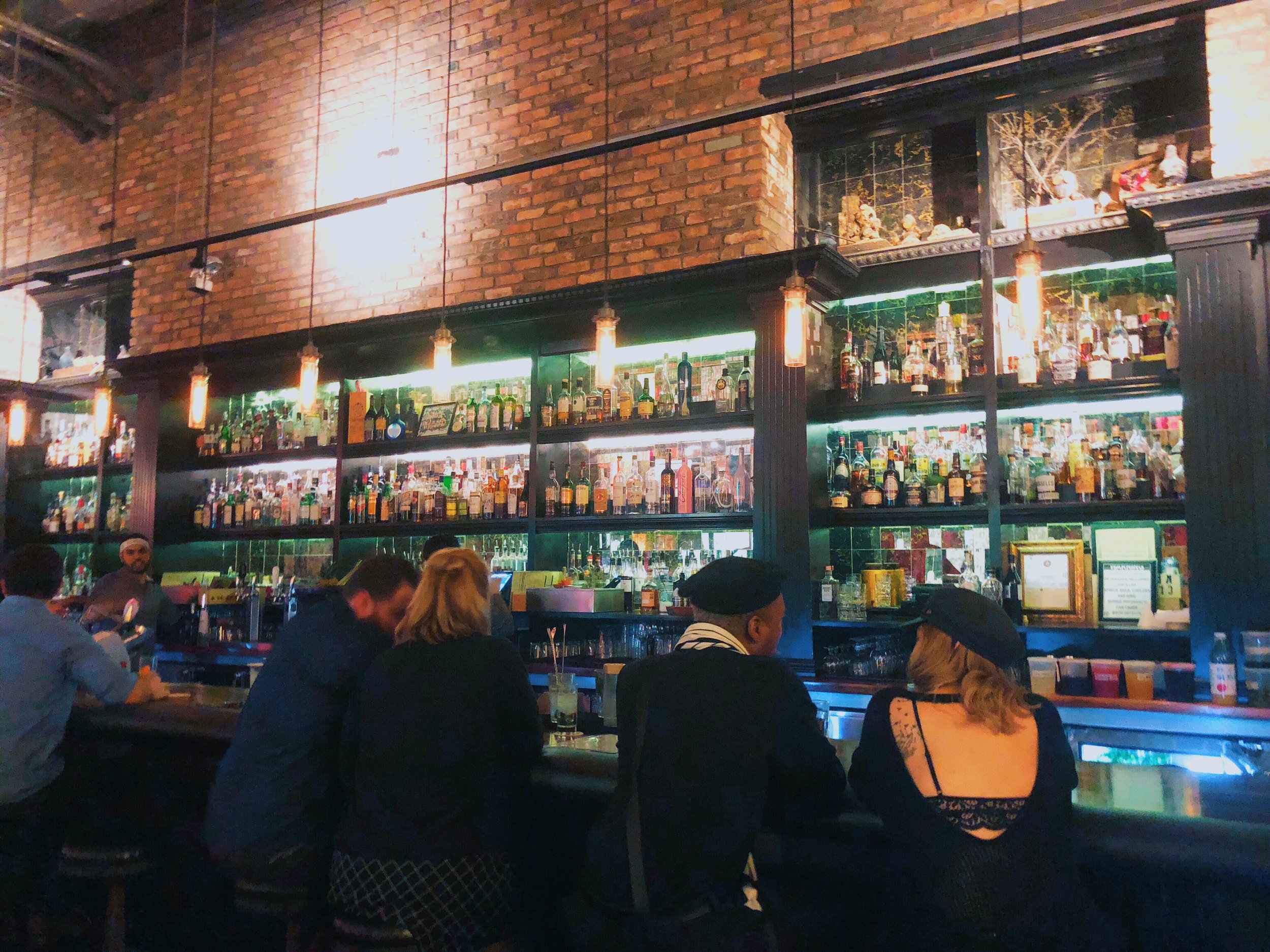 5th Ave – technically this avenue is part of Old Town Scottsdale but this special street is store after store! They're all filled with unique Arizona artisan products – no chains or touristy shops. Lots of turquoise jewelry, gorgeous art, wooden furniture, and more can be found on this road. It's also the cleanest street I've ever seen!
Art of Ice Cream Experience – by far the worst part of my trip. Don't waste your time or money : ) The Museum of Ice Cream exhibit in NY was 1000 times better. I got a bunch of photos, but it wasn't worth it. The staff are uninterested in helping, the "free treats" were all melted and warm, and the lighting throughout the entire place SUCKED. How do you have a pop-up exhibit meant for people to have awesome photo opportunities when it's dark and dull???
Papago Park – A wonderful park filled with natural beauty and hiking trails. If you love nature, this getaway is for you! There are so many cacti, trails, and gorgeous landscapes to take in. Pro tip: check out "Hole in the Rock" around sunrise or sunset for a draw-dropping sight!
Frank Lloyd Wright – the famous architect, F.L.W. has a property, Taliesin West, that people still visit every day and some people even attend architecture school there. The house and land are gorgeous and I definitely recommend buying a ticket to tour the grounds!
the architecture is exquisite!
Tempe – party town!!! This is where the top party school in the country is located, and for good reason. The downtown area of Tempe is wild and fun. S Mill Avenue is lined with soo many bars. If you're looking for a cheap drink, and a good time definitely hit up this area! There's lots of places to get a bite to eat or ice cream to cool down with, too!
Roosevelt Row – imagine a smaller, less crowded Wynwood Walls. This street is very artsy and full of hipster-ish people. There are walls with murals that people were posing in front of, of course. Surrounding the area was a farmers market (open on weekends), a retro movie theater that goes by the name of, "FilmBar," a bike shop (The Velo Bike Shop and Café) that serves Kombrewcha, and much more!
plenty of ~pretty murals~ to stand in front of like this one
The Waterfront – High-end shops and restaurants lined along the Arizona canal. Very picturesque so it's worth it to explore this area and take in the pretty scenery. The waterfront is super close to the 5th Ave shops and Diego Pops.
I feel like there's so much to Phoenix that I didn't get to fully see or experience, but what's outlined above is a good recap of my trip, and hopefully a foundation to start planning yours!! Feel free to share this guide to anyone you know traveling to Phoenix this year!